V Pop-up Spa by V Integrated Wellness
"V" is inspired by the flower of life, a sacred symbol represnting the interconnectedness of life with nature and community. V Pop-up Spa offers a holistic approach, blending innovation with indigenous healing techniques, to attain wellness. V aims to teach people a conscious way of living with a sense of purpose, in tune with spirit, nature, and community, to cultivate life force
OPENING HOURS
9 AM - 9 PM
Open Daily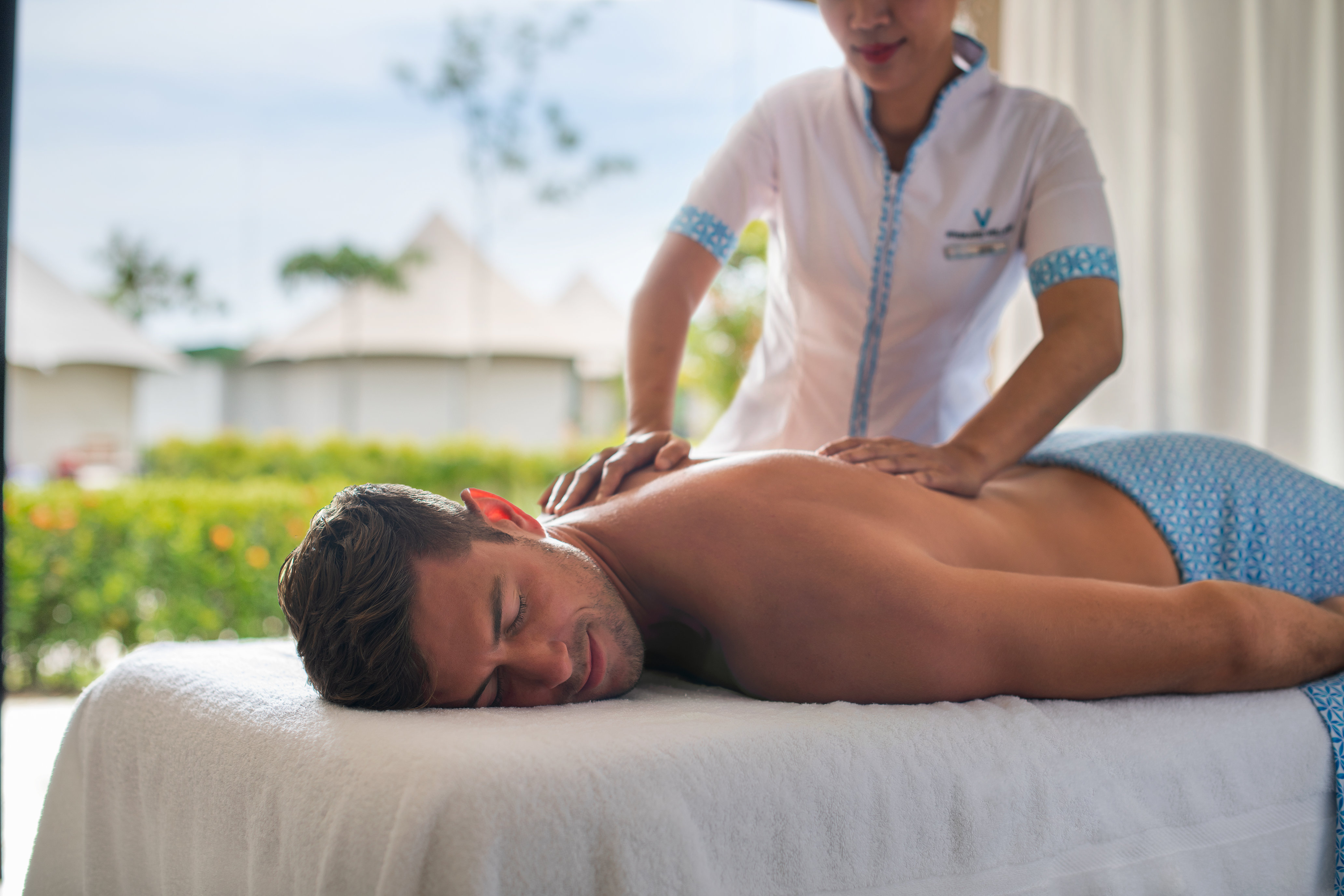 Natra Bintan Signature Massage
IDR 600,000++/hour
Drawing inspiration from traditional Indonesian healing culture, this deep tissue massgae is done with home-made blend lemongrass and coconut oil. The massage uses long kneading strokes with thumb and palm pressure to stimulate blood flow, releases wind and discomfort from the body.
Chakra Balancing
IDR 600,000++/hour
Seeking to create harmopny in the chakra system - the energy center located along the spine that is believed to connect your subconscious with your physical body. For a truly personalized experience, select a chakra elixir infused with gemstones that truly resonates with your needs.
Time Traveler's Massage
IDR 600,000++/hour
Enjoy your vacation the very first day you arrive! This massage is desgined to align your biological clock with the rythm of the present location so there is no need to waste precious time overcoming jetlag. Choose to decompress or be energized, let your therapist work the magic.
Sport Massage
IDR 600,000++/hour
Our system forced into a state of imbalance when our vital energy pathways are blocked due to chronic aches and pains caused by injuries or training. This deep tissue massage focus on the vital muscular groups, with special attention to the lumbar region.
Abdominal Detox (Chi Nei Tsang)
IDR 600,000++/hour
Heal from within by removing unprocessed emotions that manifest in the farm of energy blockages, impairing the body's vital functions and constricting the flow of the life-force "Chi". A therapist carefully works on the knots and tangles in your abdomen to stimulate your intestines to abolish toxins, improve digestion and metabolism
*Must be administered on empty stomach. Please avoid consumption of food (3-5 hours) liquid (1 hour) prior to treatment. *Health record must be declared. *3-6 treatments recommended for optimum results.
Chi Foot Reflexology
IDR 500,000++/hour
Originated in China 5000 years ago, gentle pressure is applied to points under the foot, believed to be linked to organs or glands in the body. This aims to promote the natural healing process and harmony within the body.